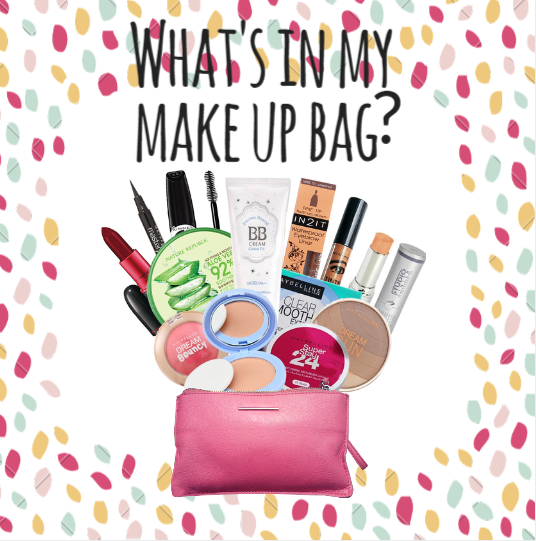 Hi guys! I hope you had a fun weekend. I was working last weekend but did a little bit of blogging research. I'm thinking of having a Youtube Vlog but I'll have to make time for it to happen. I'll let you guys know what I'm up to.
So just to let you guys know, every time I go out- may it be to the mall, church, restaurant, I always bring a huge bag with me. Every time people ask me what's in my bag, I would tell them my life is in my bag. Lol My life, I'm referring to my make-up bag. My pink Mango bag is my life.
So, you might be wondering what's in my make-up bag. Don't worry, I'll share it to you.
These are make-up products that's in my bag :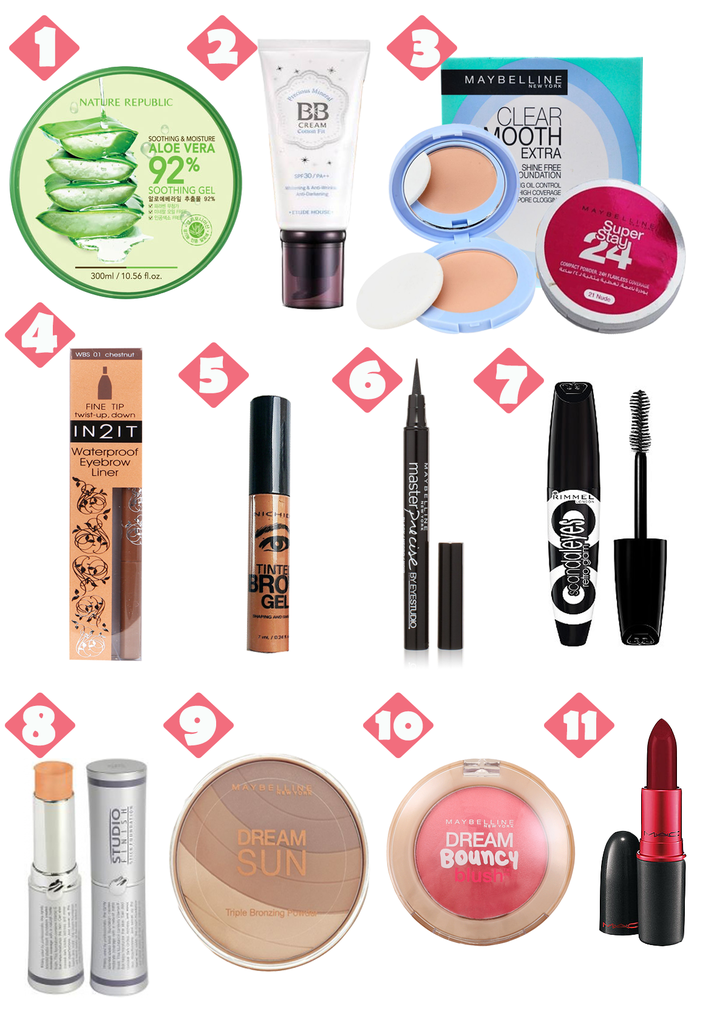 1. Moisturizer –Nature Republic's Moisturizing Aloe Vera 92% Soothing Gel
I've been using this product for almost a year now and I really love it! I use it as a moisturizer. Every time I put it on my face it leaves a fresh and cool feeling on my skin. My skin gently absorbs the Aloe Vera gel making my skin so smooth and it smells so good. I usually put it after I finish putting on my Kevlo Morning Set. Kevlo is my beauty secret. I'll tell you about on my future post.
2. Primer-  Etude House Precious Mineral BB Cream Blooming Fit [Natural Beige]
I thought Dubai has everything but I was wrong. They don't have Etude House in Dubai!! The horror. They should put one here. I'm begging you. *sobs* Anyway, since they don't have Etude House here, every time a friend or an office mate of mine goes to Philippines for vacation, I usually ask them to buy it for me and I'll just pay them back. It's struggle especially if you only have the last pint of your BB Cream! Scary. I always love Korean products. They deliver really well. You can really see good results and its worth spending on! I've been using Etude House BB Cream for 3 years now. I look like a Korean already lol
3. Foundation- Maybelline Clear Smooth Extra Shine Free Powder Foundation or Maybelline 30 Sand Super Stay 24 H Compact Powder
My skin is not sensitive as it used to be. Way back in high school and college, I used to have small pimples on my face. It's really annoying actually. Trying lots of products and in the end, it just gets worse. Well thank God I discovered Kevlo. It changed my life. I don't have any sensitivity on my skin now but my problem is it's very oily. Especially during summer when it's humid. I used this foundation powder because it absorbs the oil and doesn't look like oily. It just shines like a diamond. Lol. I used either Maybelline Clear Smooth Extra Shine Free Powder Foundation or Maybelline 30 Sand Super Stay 24 H Compact Powder.
4. Eyebrow- Nichido Eyebrow Gel (brown)
I bought this product during my vacation in Philippines 3 months ago. I was curious about it. Etude House also have the same product but it was a little bit expensive. That's why I tried the one from Nichido. It's very easy to use and it don't smudge on my eyebrows. It's just perfect! It lasts long too. . I use it every day.
5. IN2IT FINE TIP WATERPROOF EYEBROW LINER
This is my first time to try a product from IN2IT. I don't know. No one introduced me to this brand. Luckily I found it in my city. I was with mom looking for make ups to buy before flying back to Dubai. The sales lady just did her job well selling me this Waterproof Eyebrow Liner and I immediately bought it. It's very slim, smaller than a pencil. But it works so good. The downside is that it's easily runs out. It only lasted less than 3 months with me. My Nichido Eyebrow Liner last for almost one year. haha
6. Maybelline Master Precise Eyeliner
What I like about this eyeliner is that it's very easy to use because of its pointy brush. It last long and easy to wash. I don't get the panda eyes. Lol This is good especially for beginners.
7. Rimmel London ScandalEyes Retroglam Mascara
I have short lashes. This is a sad truth. What the hell, I can't do about it. That's why having the right mascara is crucial for me. Haha. I got this product from Burjuman Centrepoint. I have mine in black and it really extends my lashes and makes it fuller.
8. Ever Bilena Studio Finish Stick Foundation (Miel)
This is the best concealer I've ever tried. I used to love Nichido Stick Concealer but Ever Bilena Concealer took Nichido's place in my heart. It has perfect coverage and no one can notice the dark circles under my eyes. Get one now!
9. Maybelline Dream Sun Triple Bronzing Powder 02 Brunette
I'm one of the girls that are struggling to have a perfect contoured face, but sadly, I don't know how to apply make-up that much. I'm using this bronzing powder just to shape up my forehead, cheekbones, nose and chin. I have the cream type of contour kit but I rarely use it. I just don't know how to blend it well. Haha. I would still prefer this powdered one from Maybelline.
10. Maybelline Dream Bouncy Blush (Fresh Pink)    
I have this blush for a year now. It's just gives me the right pink color. I don't look like I've been slapped by twenty demons. Lol. I also like it's shimmering effect after putting on my face. It just shines whenever the light strikes on it. I don't feel pretty when I'm not wearing it.
11. Mac Lipstick (Viva Glam)
I got this lipstick on my birthday a couple of weeks ago. I just love it. I look so glamorous. It's a dark red color. Very sexy color! It's like a seduction lipstick. It's perfect for night out. But sometimes I use it in the office, I just don't put a lot when I'm in the office. Just a little bit reddish to color up my lips. But during night out, you can have a full coverage of Viva Glam MAC Lipstick on you. For sure you will catch everyone's attention.
How about you? What's in your make-up bag? Do you use the same make-up products that I have? Share it with me by leaving some comment below : )
Have a great weekend guys!